The Toro B-202 PLUS material lift lifts loads of up to 230 kg to a height of 6600 mm.
With this material lift, you can easily install air conditioning systems, ventilation systems, solar modules, awnings or steel beams at great heights.
This lift can also be used to carry out ideal maintenance work on the devices, for example in warehouses, airports, hotels, etc.
The essentials in brief: Suitable for indoor and outdoor use
Automatic brake winch
Neodymium magnetic pens
Made in Europe (Spain)
Wide range of accessories
Non-marking tires
The device is equipped with removable, adjustable or reversible forks as standard.
Six heavy-duty wheels ensure easy vertical and horizontal maneuvering and transporting the lift.
For quick, safe and effortless lifting, the device is equipped with an automatic brake winch that keeps the load at the desired height as soon as the handle is released.
The hand crank can be removed for easy transportation of the lift.
The base of the device can be adjusted in two width positions to ensure greater stability of the lift or to carry out work in confined spaces with little space.
The Toro lifts are robust and lightweight, for work that requires a high load capacity.
Every lift is supplied with all the components necessary for immediate use.
Each lift can be set up and operated by a single person.
This saves you time and increases productivity.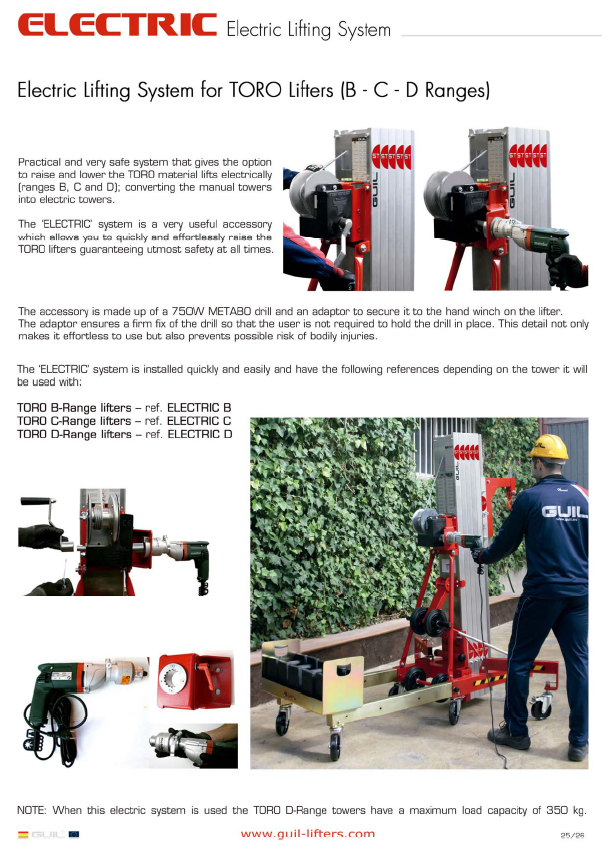 Related Products - Accessories